Events
Open Day in Forton, nr Chard, Somerset
JULY 19th 2014
Open Day at 2 Mill Lane, Forton TA20 2ND
Bring and Buy Stall
Coffees in the morning, 10am – 12.30 - Cream Teas after 2.30pm
Come and see what the charity is doing this year
Previous Events
Summer Trip to Seica Mare - and Sponsored Walk
In June 2012 a small team will visit Seica Mare because it's Annual Reports time again for all the 23 sponsored families, and time for generally reviewing all other programmes.
It's a lovely visit as the team gets to meet so many children who have been sponsored by people in Chard and in other areas too. The children are always so pleased to see us as really value their sponsorship and support which enables them to go to school or receive much needed medical treatment.
We hope to have lots of exciting news and a report will be ready by the end of June.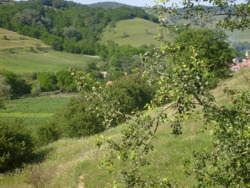 The team will also be doing the 80 kilometer TRANSYLVANNIA TREKATHON. This means walking at least 10 miles a day for 5 or 6 days. During the walk they will be checking out the amazing biodiversity in the area, dodging fierce sheepdogs, hopefully spotting eagles and bear tracks, bathing sore feet in mountain streams .... and on arrival at the village destinations will be able to see traditional crafts such as charcoal making, barrel making, cheese making ( hopefully picnicking with the shepherds after they milk their sheep) and bread making in an outside bread oven.
There are also many historically valued fortified churches en route and the whole area is protected by Natura2000 as a jewel in the crown for European biodiversity and cultural interest.
This is a new venture for the project - we are interested in protecting and caring for the land and helping the peasant farmers who are involved in work, but also we are hoping to offer the walk to sixth form students next year and any who wish to make a pilgrimage through this stunning countryside and visit the many churches there, three of which are UNESCO world heritage sites.
This walk is being done as a sponsored walk for the charity and we would be grateful for sponsorship - the team are all older folk (except on in her 50's!) so a gallant effort!
If you want to sponsor us please contact us through the website and we will get a form to you. Thank you for your ongoing support.
Streetspace Fundraising Events May to July 2012
Streetspace have organised many fundraising events for their August trip:
26th May Family Quiz Night, Chard Rugby Club
24th June Bike Rally with BBQ at Chard Rugby Club
Both events run with 4 Aces Bikers for Charity
9th June 9:30 – 12:00 Buckland St Mary Coffee Morning
14th July - 11am to 4pm Community Day at Henson Park, a free event open to all young people. A Silent Auction will coincide with this event.
Car Boot Sale
May 12th – Car boot sale at Donyatt Bowling Club from 10am onwards
The ANNUAL GENERAL MEETING
will be at St Mary's Church Rooms on May 8th 2012 at 7.30.
Refreshments available and all the latest news - do come along.
Sanctus and Friends invite you to a Christmas Concert
Please support the Christmas Concert on 17th December (posters and tickets available from Chard churches or on the door. For more information please contact us here)
Saturday 17th December at 6.30 pm
At Chard Baptist Church
Tea Coffee and Mince Pies during interval
Tickets £5 (children £2.50)
20th Anniversary Thanks Giving Service followed by AGM
at St Mary's Church, Chard
on Friday 27th May at 7pm
- followed by nibbles in the Church rooms, a chance to look at photos and Power-points, chat and hopefully meet up with team members from past years.
The AGM will start at 8.30pm.
We would love YOU to come - if you can, please email via the website to give some idea of numbers for the catering team.
Thank you - see you there.
Jubilate Choir conducted by Pat Scriven
Do come to the
Church of the Good Shepherd, Furnham Road, Chard, Somerset
on November 20th at 7.30 pm
to enjoy the
Jubilate Choir conducted by Pat Scriven -
also featuring
Warwick Lydiate - violin, accompanied by David Kennard
Tickets are £5 include refreshments and are available at the door or from representatives in Chard churches.
AGM 2010
To be held on Friday 28th May in St Mary's Rooms - 7pm for 7.30. Refreshments will be served before the meeting. There will be a presentation of some of the 2009 work in Seica Mare after the main meeting.
Open Evening: Summer 2009 Visit
Wednesday October 21st 7:15pm for 7:30m at Chard Methodist Church.
An open evening to hear from the young people from Chard churches who visited Seica Mare this summer.
Coffee in the hall from 7:15pm.
Presentation in teh church from 7:30pm.
Meet the team, see the pictures and hear about the visit.
April 17th (Friday) - Project Romania AGM
AGM at 7pm at St Mary's Church Rooms. The business part will be over in a trice as at 7.30 we are serving a buffet supper followed by a presentation of the work, and a chance to ask questions and see the current needs and where we are heading. All are invited.
May 9th - concert by the 60 strong Pontnewydd Ladies Choir.
The Choir will be at St Mary's Chard and the concert will commence at 7pm.
All proceeds are in aid of the charity.
Tickets at £5 per head will be available from the Project Romania church reps, the Welcome Bap and at the door on the night.
Sponsored Walk to Support Dance Team Visit
Saturday 16th August 2008.
Sponsored walk along the Taunton and Bridgwater Canal in aid of the visiting Dance Team for the town twinning.
Town Twinning
2:30pm Saturday 6th September 2008
Chard Guildhall
The twinning of Chard and Seica Mare.
AGM
Wednesday 21st May 2008
Furnham Church Hall (Church of the Good Shepherd)
Alive Concert
Saturday 2nd February 2008
The Barn, Square and Compass, Ashill
Tickets - £7 Adults Concessions £3 Family £15
Tickets available from 01460 52982 or on the door (Room for 300 in the Barn I am told)
All proceeds to be shared between Alive (fund to assist young local talent) and Project Romania.
There will be a mix of music, all performed by local bands and soloists.
AGM
10th March 2007 7:30pm
St. Mary's Church Rooms