The Rainbow Centre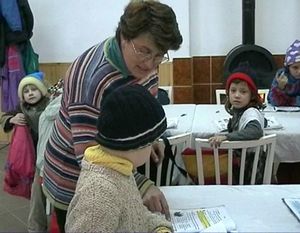 THE RAINBOW CENTRE of HOPE was opened by Sir Graham Watson, Patron for Project Romania.
Over the years the Centre has served the community in a number of ways, although the needs of local children have always been paramount. Community and school functions have been held there but the original Homework Club has declined due to children being more able to work at home.
Two doctors now use the Centre each week, as their hut is cold and uncomfortable.
Meanwhile the Centre has been used extensively by the villagers of Buia and many smaller surrounding villages and a Table Tennis fraternity has emerged among the young (and not so young) people in the community. This has been a great joy to local parents and villagers alike and tournaments have taken place – with the possibility of going "inter-village"! For these villagers this is a big matter as previously there was nowhere and nothing for the young people to go in the evenings.
The Rainbow Centre is a focus of our work at the moment – see Looking Ahead.